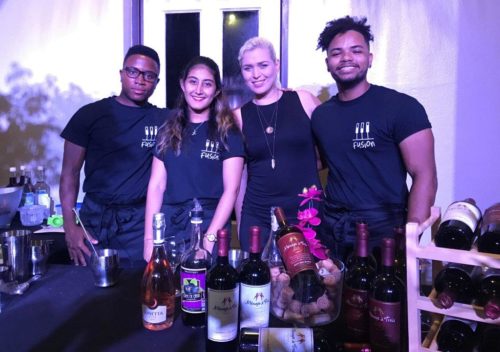 For the second year in a row, the University of Aruba Faculty of Hospitality, Tourism and Management Studies, FHTMS, and the EPI, Hospitality and Tourism Unit enjoyed the sponsorship, guidance and support of Divi Resorts Aruba for an 'Evening of Global Food and Dancing' at the University of Aruba.
The students of both schools, directed by Executive Chef Paul Zijlstra, who is the culinary authority for both Divi & Tamarijn Aruba All Inclusive, collaborated on this dinner dance, on the beautiful grounds of the university.
Freddy Zedan, Food & Beverage Director at Divi & Tamarijn Aruba All Inclusive created an interesting garden set up with interactive stations, all manned and womaned by the students of both schools in collaboration with Arion Wine Company & Divino Wine & Spirits, Aruba Trading Company & Romar Trading, and La Cava, working together to get the students to the next level as far as mixology and bartending.
The students also prepared a tantalizing tasting experience for over 100 guests,  and Chef Zijlstra reports he came for a tasting, at the EPI school pre-event, and while the students' own recipes required a bit of balancing, overall, he was happy to confirm that the level of culinary expertise is evident, thus, recipes and food presentations passed his inspection with flying colors.
Party-goers enjoyed a welcome cocktail, musical entertainment with the Bamboo band, Dutch, Italian, and Mediterranean food stations, sweets and coffee
The event fulfilled two purposes. It served as a working classroom, where students organized an actual party, from menu concept, to meal preparation, marketing, set up, service, and breakdown, as part of their educational curriculum. It also offered a fundraising opportunity where all monies collected were donated to the EPI & FHTMS students to facilitate field trips and culinary activities, abroad.
Dean John Wardlaw reports, the students already went last year on a winter-sport experience, to learn about cold weather tourism, which opened our local Aruban students' eyes to the many different aspects of global hospitality.
The Global Food & Beverage experience was supported by the schools' faculty and the island's tourism industry, spearheaded by Divi Resorts. Other generous sponsors included Angelo Koolman, Sharp Productions, Sunny Ray, the Gianni's Group, & Vibrations PR,