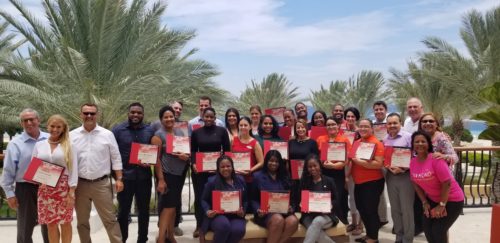 CMITE, Caribbean Meeting & Incentive Travel, in collaboration with SITE, the Society for Incentive Travel Excellence, CTB, Curaçao Tourism Board and ECO DMS, Destination Management Services Aruba/ Curaçao, had the pleasure to host the 10th annual CMITE, held August 6-9, 2019 at the Santa Barbara Beach & Golf Resort in Porta Blancu, Nieuwpoort, Curaçao.  
"Bringing CMITE to Curaçao is a vital part of our long-term MICE strategy," said Wichita Villacres, president and CEO, ECO MDS, Aruba/Curaçao.  
The conference brought important players in the MICE market to Curacao. It was an opportunity to showcase Curaçao to those qualified USA and Canadian, exceptionally high-quality buyers, who book high-volume Caribbean business.
As the conference took place, the government and Curacao Tourism Board recognized the need to also offer a CIS Certification, a Certified Incentive Specialist course, to the community. 
This is all part of the sustainability program that the government is implementing for the locals to grow professionally, on a sustainable national tourism foundation.
ECO Destination Management Services Curacao understands the need for growth in the incentive travel and for the need to foster a sustainable environment. It worked hard to bring the certification to Curacao and sponsored the event together with Santa Barbara Beach Resort Curacao and Site Florida & Caribbean. 
That, certification, Says Wichita Villacres, couldn't have been possible without the personal commitment from Janine Dewindt, of Curacao Tourism Board. 
Furthermore, ECO DMS Curacao sponsored young talents from the community, Damini Wilson, and Jenae Reina, from the Intercontinental University of the Caribbean located in Curacao, in addition to three ECO DMS employees who flew over from Aruba, Therwin Ruiz, Vashni Wix and Gianny Schwengle. With that last certification of the three Aruban talents, ECO DMS completed the certification of its entire team, in Aruba and Curacao – yes, they are all CISs.