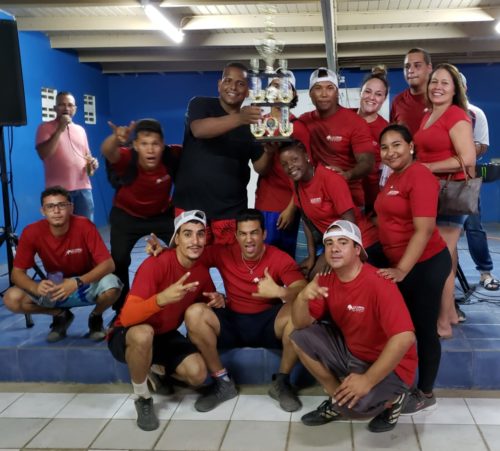 During the entire month of August, La Cabana Beach Resort & Casino associates were treated to a fun ongoing series of events titled the 5-Kamp Tournament.
This year's 5-Kamp tournament was kicked-off with Soft Ball Games, pitching a number of different local companies in competition with each other.
The carefully scheduled multiple evening events gave associates the opportunity to play and alternatively cheer along the sidelines, five different competitive sports, namely Bowling, Softball, Kickball, Volleyball & Human Foosball.
All five sports encouraged associates to come together, support each other and have fun.
La Cabana Beach Resort & Casino believes in camaraderie and quality times experienced before, during and after games.
With joy and laughter shared outside of the work environment, La Cabana Beach Resort & Casino associates fostered positive bonding experiences.
The 5-Kamp could not have come at a better time, as the resort is currently involved in its 100+ Days of Hospitality promotion, where the focus is on supporting and appreciating the associates who work hard daily and strive to Create Memorable Vacations for Owners and Guests.
La Cabana Beach Resorts wants the entire team to know that: If It Matters to Associates, It Matters to the Resort.
At the end of the tournament, La Cabana became sub champion for the Kickball Tournament and won 3rd place for the Human Foosball Tournament.   
Kudos to all teams, for their wonderful efforts during the 5 Kamp Tournament and for scoring their well-deserved trophies and creating wonderful memories together during our 5 Kamp Tournament.