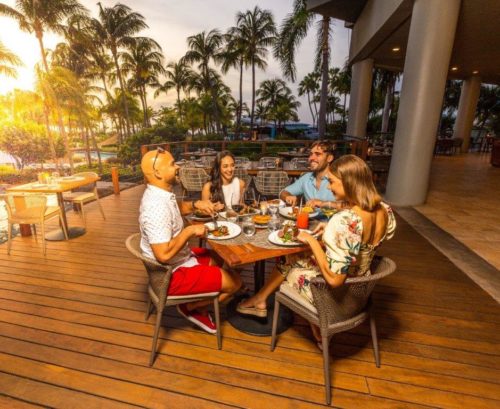 For discerning patrons with an elegant dining preference, Executive Chef Matt Boland has prepared an exceptional three-course menu for the Sunset Grille featuring the finest steaks and seafood specialties highlighting the restaurant's refined cuisine.
With two dinner seatings, one at 5:30pm and the other at 8:30pm, at $159 per person, including a welcome Kir Royale cocktail, patrons may be seated in the air-conditioned dining room or al fresco on the wraparound terrace overlooking palm treetop over Palm Beach.
Revelers are invited to join the resort's six-hour Grand Fiesta, after dinner with non-stop poolside partying and fireworks at midnight.
Wristbands for the Grand Fiesta following dinner at the Sunset Grille may be purchased at $119pp, kids 17 and under $69, starting December 27 in the Aruba Tower Lobby.
The Sunset Grille menu for the perfect ending to an amazing 2019, includes a choice of appetizers such as Lobster Bisque under a Puff Pastry Dome, Onion Soup Gratinee, Shrimp Cocktail Horseradish Sauce, Seared Sesame Ahi Tuna, Steakhouse Wedge, Caesar Salad, and Buratta & Tomato.
The delectable choices for main course include Crab Stuffed Shrimp, Sea Bass, Blackened Grouper, or Grilled Cauliflower Steak, Surf and Turf, Filet Mignon Creek Stone Black Angus Beef, New York Prime Creek Stone, Black Angus Beef Sirloin, Cowboy Steak Bone-In Rib Eye Creek Stone, and Double Cut Lamb Chops, all served with tasty grilled vegetable sides.
The dessert features a New Year's Gala Dessert Plate, befitting the festive occasion.
Members of staff and management of the Sunset Grille wish guests a happy vacation and best wishes for a wonderful new year!
For reservations dial +297 526 6612 or email the concierge at [email protected]