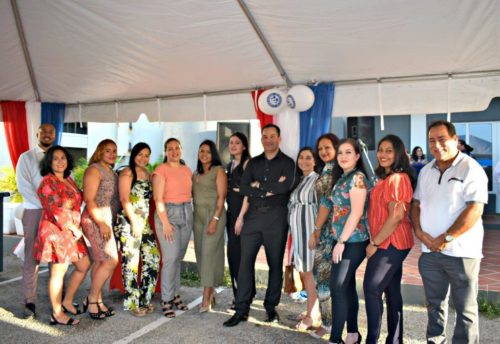 Under a beautiful sunset, a mixed crowd of local and Dutch healthcare professionals got together in front of the main Laboratorio di Servicio office in Eagle.
The mood was jubilant and invitees could feel in owner Robert Wever's speech that he was extremely proud of the two recent accomplishments of Botica di Servicio, namely rapid expansion and the coveted certification.
Laboratorio di Servicio, the largest Lab service provider on the island is now officially ISO-certified, meaning it operates under the same standards as ISO-accredited labs in the Netherlands.
Robert Wever, Aruba's leading clinical chemist is well-known in healthcare circles as a top professional and a visionary. He maintains very high standards within his company, and among his employees. After working in the Netherlands as a Lab-specialist he decided he wanted to improve the quality of lab-services offered in Aruba, and even expanded to Curacao.
After a healthy injection of funds from the Aruba Growth Fund, the healthcare-chain's majority stakeholder, Robert and his business partner were empowered to expand into the five operating pharmacies on the island. In total, the "di Servicio" healthcare brand now operates NINE "prikpost" Lab locations besides its main-office in Eagle.
During a brief interview with Wever he reports, "Not even our local hospital, Dr. Horacio Oduber Hospitaal, is ISO-certified, and I couldn't continue operating "business as usual" knowing that Aruban patients are not receiving optimal, quality healthcare. Our number one mission is to provide reliable and safe care to our patients, and that is why we HAD to make the necessary adjustments and upgrades to ensure ISO-standard service."
Laboratorio di Servico, raised the bar on healthcare services here and although lab visits and tests are ordinarily far apart, it is good to know they are available, at Laboratorio di Servicio, maintaining the safest, best level of service on Aruba