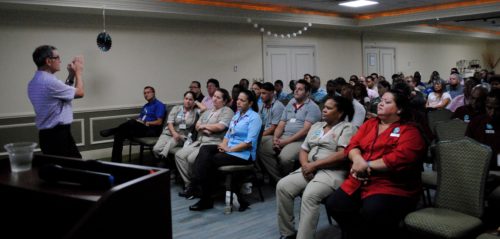 Associates and members of the Management team at La Cabana Beach Resort & Casino got together to recognize the amazing work done by staffers during the 3rd quarter, at the 3rd and final Associates' meeting for 2019.
The event started with the introduction of the resort's newest value, namely integrity added to the list of previously guarded and upheld core company principles.
Under the direction of the Eagle Team and the department of Human Resources honors were extended to associates who have rendered extraordinary and outstanding service during 2019, and nurtured fellowship, between colleagues and departments.
A moment of silence was observed in the memory of Julio Cesar, a truly exception friend, and co-worker who passed away. General Manager Joe Najjar paid tribute to his legacy of humble service gracious caring.
The General Manager then proceeded with a presentation of the overall scores of each department, as compared to 2018, acknowledging the Activities department for most improved scores. He closed the formal part of the event with a fun quiz, challenging associates to come up with the right answers for prizes.
The Eagle Team and the department of Human Resources thanked attending associates and the Executive Committee for helping orchestrate an event committed to the resort's values and norms, directing the thinking and actions of all team members, dedicated to the creation of Memorable Vacation.