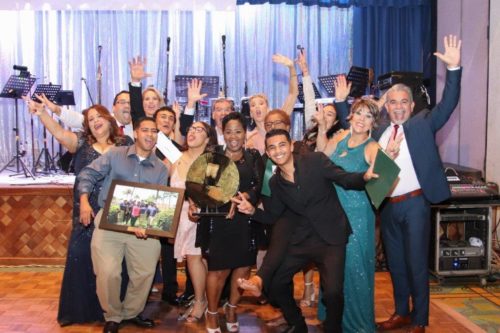 The associates of La Cabana Beach Resort & Casino were invited to the traditional company party at the Renaissance Convention Center, emceed by Carine Cratz and Tessely Koolman who took staffers and members of management through a festive program of seasonal cheer, entertainment and awards.
Associates were greeted at the door by General Manager, Joe Najjar, members of the Executive Committee and Department Heads, while Gaitas Las Unicas entertained the elegantly-dressed party-goers with seasonal favorites.
A special instant photo studio was set up for pictures, which were immediately available that night as souvenir from a great evening. A glittering Santa is a silver suit made himself available for selfies and fun group pictures,
Human Resources Manager Sandra Gacusan had the honor of giving a special Christmas Blessing, just before the lavish buffet dinner by the Renaissance Convention Center Culinary Team, opened.
As associates dine in community on holiday specials Najjar delivered his own Christmas Message reviewing the accomplishments of 2019 and envisioning the gifts 2020 will bring.
Robert y su Solo Banda Show and the TAXI Dancers provided nonstop entertainment and during the music breaks honors were bestowed on top achievers with the announcement of the Associate of the Year, the 1st Runner Up, the Supervisors of the Year, Managers of the Year and Team of the Year 2019, from among all monthly winners.
At the end of the evening, door prizes were raffled off surprising lucky associates with Awg 1,000/ Awg 500/ Awg 250 and 100 Grocery Shopping Sprees, at the markets of their choice.
The dance floor filled up for the Hora Loca, and remained hopping a long time past midnight.