The Casino at the Hilton Unveils its Year-End Campaign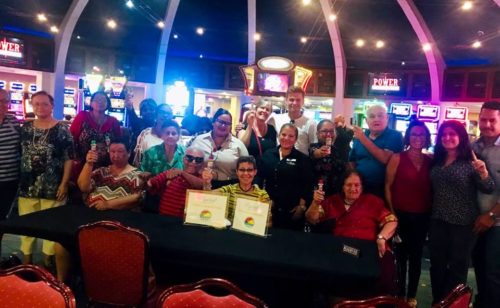 Effective November 1st, all members of the Hilton Casino Players' Club may participate in Daily Drawings of prizes with five winners of $25 at 9pm; and one winner of $100 at 10pm.
The Daily Drawings build up to a Holiday Astro Sweepstakes when any players may win astronomical prize, such as an Ipad 32GB, a Samsung Flat Screen TV, $1,000 Slot Play, a PlayStation 4, a Laptop, a Weekend Stay for two at Hilton Aruba Caribbean Resort & Casino, Tickets for two to De Palm Island, a Stereo set, Dinner for two at the Sunset Grill restaurant, and/or JBL Bluetooth Speakers.
The way to participate in the Astro Sweepstake is easy. Earn 100 points on your Membership Card and receive 1 Astro raffle ticket; earn 50 points and receive 1 weekly raffle ticket to participate in weekly drawings. The Weekly Drawings take place every Sunday, starting November 11th at 9pm with ten $25 winners; at 10pm, with one $100 winner, and at 11pm with two $100 winners, and you must be present to claim your prize.
The names of the winners of the final Astro Raffle will be announced at the end of the promotion at the casino's annual Customer Appreciation Party, December 23rd, 11pm.
The raffle results are part of a Bingo Holiday Extravaganza Weekend, a 3-day event, on Friday December 21st, Saturday December 22nd, and Sunday December 23rd, with guaranteed $30.000/AWG 54.000 in prizes, and the chance to win the giant Progressing Jackpot, if not won before, $75.000/AWG 135.000, and growing…
Presale of bingo tickets for the Bingo Holiday Extravaganza Weekend had started, $70 for the 3 Day Bingo Package, plus $20 free play.
Presale starts November 1st and closes December 20th at 9pm.
Should players decide to buy their tickets separately then Friday December 21st, Day 1, is $20 Presale and $25 at the door; Saturday December 22nd, Day 2 is $25 Presale, and $30 at the door and Sunday December 23rd, Day 3, is $35 presale, and $40 at the door.
Players will receive $10 free play with every purchase of a presale ticket
The three-day bingo games all offer attractive jackpots for Game 9, Full card: $3.000/AWG 5.400, on Friday; $5.000/AWG 9.000, on Saturday and $10.000/AWG 18.000 on Sunday.
The Casino recently entertained a group of elderly from SABA for happy hour bingo on Friday, an event that was appreciated and enjoyed. Pictured here the happy casino visit with Bingo Caller Carissa.