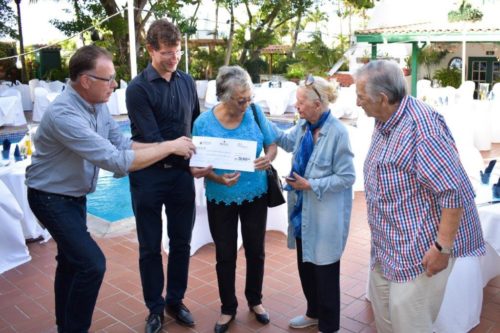 The Annual Wente Vineyards – Arion Wine Company and Papiamento Restaurant Golf Tournament concluded successfully with a recent check presentation to FHMD, Fundacion pa Hende Muhe den Dificultad.
"The results exceeded our expectations, "said Govert van der Hout, Arion Wine Company," the tournament attracted the maximum number of golf players and almost twenty generous sponsors, who contributed enthusiastically to an important social cause."
The exciting tournament was graced with the presence of Eric Wente, of Wente Vineyards, as the golf tournament host. Together with Papiamento restaurant, the partners present a multi-tiered event over the course of one weekend in April.
The resulting fund-raising check was handed over at the Papiamento Restaurant to Yvonne Spellen, Vice President of FHMD. She was accompanied on the happy occasion by Jasper Fidler, the treasurer of the organization. The money collected by the tournament will be put to good use by expanding the current shelter for families in crisis and making more suitable accommodations available.
On behalf of organizers, van der Hout made next year's Wente's Charity Golf Tournament date, 04 April 2020, public. The three-way partnership – Arion Wine Company, Papiamento Restaurant and Wente Vineyards – has been very successful in raising funds on the island for the past sixteen years.
Among the 2019 tournament events a golfers' cocktail reception, at Papiamento restaurant, a guided wine tasting by Eric Wente, with the students of EPI hospitality stream, a wine masterclass with young F&B professionals, a full day of much-enjoyed golf at Tierra del Sol, and an award banquet with attractive prizes at sunset.
About Wente Vineyards: The vineyards have continuously been operated by the family, for 135 years. The business aspect of the company is lead today by the fourth and fifth generations of the Wente family. As wine makers, the family blends traditional, innovative and scientific winemaking practices, so that the winery consistently maintain its leadership role in the California winegrowing community and produces an outstanding portfolio of fine wines.
About Papiamento Restaurant: Housed in a historic cunucu manor, or typical old Aruban farmhouse, built in the early nineteenth century, the restaurant features indoor rooms filled with Dutch antiques, and a gorgeous garden and a luminescent pool, it was and still is the home of the Ellis family, who operates the lovely restaurant.
About Arion Wine Company: A wholesale company specialized in wine from all over the world, and passionate about the business, promoting Knowledge, Service, Quality and Friendliness.
Thank you to generous sponsors: AIB Bank N.V., ASD, Complete Logistics, Robertson Fire Protection, Nagico Aruba NV, Aruba Airport Authority, Cold Well Bankers, BENU Pharmacy, Aruba Climate Control, Garage Cordia, Aruba Bank, Plus Accountants, Optica Oduber and Kan, Sixt Car Rental, H&H, Fofoti Tours and Transfers, Kooyman, Curtain Call, Setar, FMSA/ RdA, Tribike