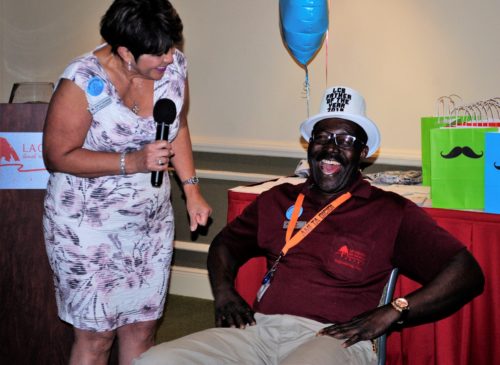 The Resort's Social Committee and the department of Human Resources collaborated on a special celebration at the conference room in honor of fathers working at the resort with the aim of offering them a fun and relaxing opportunity to unwind with their peers, with entertainment by DJ Crossfire, Maribel Maduro and guest dancers.
Assistant General Manager Jessica Franken, demonstrated the resort's appreciation by honoring fathers with a special presentation, both inspiring and encouraging.
Executive Assistant Helen Werleman enjoyed the honor of announcing the Father of Year 2019, Bazile Baptistin, of the Engineering Department.
All party-goers were treated to a great variety of delicious food prepared by the Food & Beverage team.
A raffle for prizes and surprises wrapped up the festivities with each father present awarded with a gift and warm words of praise.
The fun and relaxing afternoon featured the option of a chair massage which many of the fathers enjoyed.The Social Committee & the department of Human Resources would like to congratulate staffers who are fathers, working for La Cabana Beach Resort & Casino on their special day and for being wonderful heads of their households.