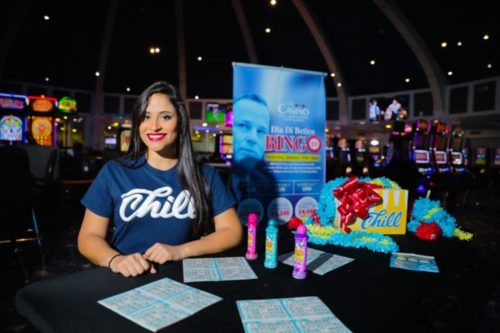 The Hilton Casino will be a hub of activities on Dia di Betico Weekend, January 24th, and 25th, 2020, with live entertainment and special promotions.  
On Friday, the casino will be hosting a Bounty Tournament, in honor of Dia di Betico. The entry fee is $85 (bounty $25+dealers$10, get 7,500 Chips) and there are opportunities for re-entry, $85 and add-ons, $35, both receive an additional 7,500 chips.
Starting at 8pm, the tournament guarantees $3,000 in prizes, with a minimum of 35 players. 
Players are invited to come early on Saturday and buy their bingo tickets, as Dia di Betico Bingo starts at 4pm, with many winning opportunities: $1,800 in bingo prizes, a sizzling Progressive Jackpot of $37,306/ Awg. 67,150*, a Triple Power Ball of $3,300 and a special Power Ball 25, with $4,000/ Awg. 7,200 in additional prize money.
The casino's giant progressive jackpot pays 100% within 50 calls, $5,000 within 51; $2,500 within 52, $1,250 within 53, $750 within 54, $500 within 55 and $250 thereafter.
Players may buy their tickets $20, and receive $5 free play; the presale closes on January 24th, at 8pm, then a limited quantity of tickets will be available at the door for $25.
Live entertainment by Robert Maduro & Alma Folkorico, will be offered during intermission, and after Bingo until 9pm.
The casino will be serving free local snacks, and hopes to entertain many people on Aruba's beloved national holiday, dedicated to the Father of the Nation. 
Additional fun features of the Dia Di Betico Weekend, Friday Happy Hour from 6:30 to 11:00pm, with music, drinks & hourly raffles, where you could win up to $200 in free play (to participate must play with card insert in machine)
On Saturday, players are invited to play and win triple the fun with triple points from 6:00pm to 11:00pm (to participate must play with card insert in machine).
And on Sunday, players get to earn 100 points on their players' cards between 7pm and 11pm & receive $50 free play (to participate must play with card insert in machine)
For more information on the extensive weekend program, call the Players Club at 526- 6930
Generously co-sponsored by Chill & Balashi Brewery