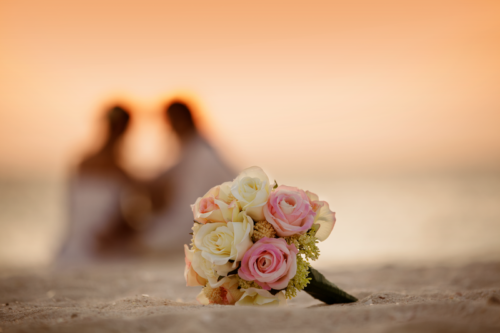 The holiday dedicated to love will be celebrated at Hilton Aruba Caribbean Resort & Casino with two very distinctive offerings, one at Sunset Grille restaurant with a Valentine's Day dinner for two or more extravagantly, on the beach at a romantic celebration of love, with an elegant renewal of vows ceremony also followed by an exquisite four-course meal, toes in the sand.
Valentine's Day dinner at Sunset Grille restaurant includes two, four-course meals priced at $109 per couple, and includes a choice of starters, such as Caesar Salad, Steakhouse Wedge or Seared Sesame Ahi Tuna, followed by a Lobster Bisque Shooter Intermezzo and a choice of signature entrees, Local Red Snapper Creole, Petit Filet Mignon 6 oz., Organic Chicken Breast or Pan Roasted Norwegian Salmon, with Caribbean Pumpkin Risotto.
A Valentine's Day Lovers' Dessert for two, concludes the romantic dining experience. Sunset Grille is open daily from 5:30pm to 10:30pm. For reservations +297 526 6612 or email [email protected].
Incurable romantics will delight in the resort's Renewal of Vows Dinner, which takes off in a tropical-style setting with an elegant renewal of vows c
eremony on the beach, followed by an exquisite four-course meal.
The set dinner menu starts with local, handmade Burrata cheese and ripe tomatoes, with prosciutto, and grilled vegetables, pesto and balsamic dressing, followed by a Lobster Bisque Shooter Intermezzo, and a Surf and Turf main course, with Lobster tail and Filet Mignon, baby potatoes and asparagus served with butter and lemon. Valentine's Day Lovers' Dessert for two includes a triple chocolate torte, with chocolate covered strawberries.
The Vow Renewal ceremony & dinner is $94 per person, with a dinner only option for $84 per person. The Vow Renewal Ceremony starts just before sunset at 5:45pm, with two dinner seatings at 6:30pm & 8:00pm thereafter. Tickets may be purchased, starting February 11th in the Aruba Tower Lobby from 1:00pm to 5:00pm.
Both celebrations of love on February 14th offer specials on French Moet & Chandon and Veuve Cliquot champagne, at $99 Bottle or $15 per flute.
On Valentine's day, show your affection and appreciation to each other at Valentine's Day Dinner at the Sunset Grille or at an unforgettable Vow Renewal and Dinner on the beach, commemorating your love that has only deepened and matured over the years.