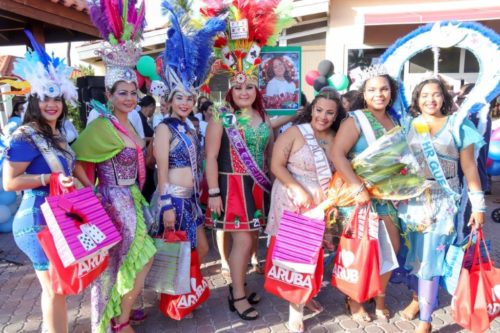 As the associates of La Cabana Beach Resort & Casino wrapped up their first quarter general meeting, a brass band sounded, signaling the crowd to follow the music to the pool deck where the annual Queen Election pageant was unfolding with seven spirited candidates, prepared to conquer the hearts of all guests attending, and dance away with the crown and sash as the resort's royalty for the year.
Lisandra Vrolijk, representing Food &Beverage, Paula Zievinger, from Activities, Johana Bakhuis, Owners' Services, Luna Rodriguez, Human Resources, Claudia Castro, Housekeeping, Kilary Villegas, Front Office, and Tahelis Werleman, Glitz Casino, introduced themselves to the judges' panel with short, fun speeches, proudly wearing colorful Carnival costumes, as the brass band animated and entertained.
The candidates then proved their lively Carnival attitude by dancing with their supporters and fans to the music of the band.
After careful deliberations, the panel of judges picked Johana Bakhuis of Owners' Services as the winner and she was ceremoniously crowned, followed by the selection of the runner-up, Tahelis Werleman, of Glitz Casino.
The exciting event was hosted by the Social Committee in collaboration with the department of Human Resources, and the Eagle Team. It delivered a delightful sunset party, in which guests and associates rooted for their favorite candidate, to Carnival music.
Congratulate to all queen-candidates who participated and gave it their best, and congratulation to Queen Johana, who landed the ultimate title, may you enjoy your reign in the kingdom of La Cabana, for 365 joyful days.