The Father of Our Culture turned 98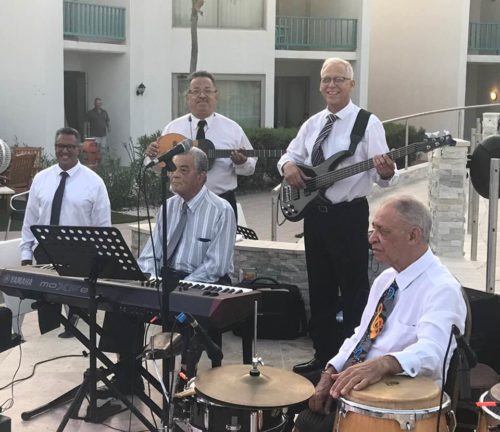 It was Padu del Caribe's 98th birthday on Thursday and family members and friends came out to celebrate the occasion, on the Mill Resort's pool deck at sunset, with a concert given in his honor by his gang, the musicians who have been playing with him for decades.
All of Padu's CDs were available for sale and I bought the latest, a compilation of 24 songs. I put the CD on in my car. It made me instantly happy. Such joyful music.
Vivian, Padu's daughter reports she made the selection of songs with pianist Johnny Schaarbay. They listened to all 140 recorded songs and had a hard time deciding which one to dust off, they wanted to include all. Finally, they maxed out the file with 24 tracks, Padu sings on five.
In the good old days, Padu was a favorite crooner on TV, and on vinyl records, delivering sentimental Boleros in an emotional, personal singing style.  The music is soul-soothing and sweet. All 24 tracks feature Padu on the piano. No one plays piano like Padu does, he practically devours the keys, racing up and down the scales, improvising in the most unexpected places, in the most intricate of ways, like the greatest of the great American jazz pianists of the early 20th century.
His music is layered, each hand flying through the notes in complete abandon, playing independently of the other, yet it all fits together, in an unmistakable Padu style. You know it's Padu when the piano sounds so bright and effervescent.
Vivian told me a story, that Padu was 8, when he wandered the neighborhood streets, two dirt roads down, to listen to 11-year-old Rufo Wever play the piano. That was his inspiration, a boy just three years his senior, and Padu in turn was an inspiration to many young local musicians, who couldn't believe the confidence and speed with which Padu connects with the ivories.
On Friday, King's Birthday there was a 98th birthday celebration at Plaza Padu in the afternoon with a giant cake, and well-wishers. It was an underwhelming event.
It is good to note that Padu's music, was finally put on paper a few years ago by Johnny Croes so that 24 pieces are now available to the public as partitures. The rest of the music is recorded on cassettes and vinyl and had to be digitalized and cleaned up for the new CD, by Tony van Veen and Discmakers in NJ, who has also produced the previous albums.
From my article about Padu, written in 1995, from my Book Island Life:
Juan Lampe is the most outstanding nationally and internationally recognized Aruban artist. He is a widely loved and appreciated musician, who in cooperation with the late Rufu Wever coauthored "Aruba Dushi Tera" and many other wonderful songs. "Dushi Tera" was popular among Arubans long before it was officially proclaimed the national anthem in 1976. "It somehow inspires patriotic feelings and expresses our boundless love for this beautiful island," its humble composer explains.
Nobody here ever bothers calling this national treasure by his real name. It's his stage personality, Padu Del Caribe, that people are proud of. Ironically, music has always been his hobby, a spare-time activity. A onetime professional electrical installation dealer, Padu also spent a long time with the airlines, officiating over ALM, the Antillean carrier, first as sales representative and later as station manager. To me, Padu is mostly Vivian's piano-loving father and Ervin and Sonia's utterly devoted grandfather.
Born in Aruba into a musical family in 1920, he was instantly attracted to instruments, he recalls, expertly playing the mandolin, cuarta, and clarinet. It soon became clear that his favorite form of expression was the piano, though he never learned to read or write music.
Happy Birthday Padu, the Father of our Culture.
The Food Truck Festival: We had a great time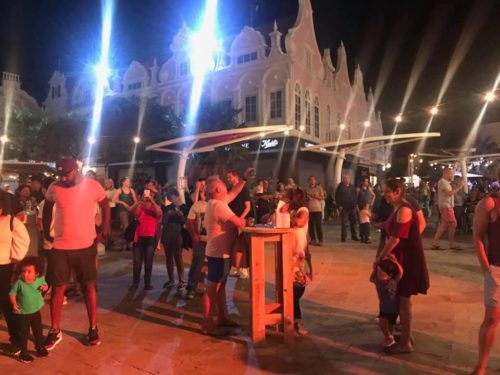 I will totally ignore the first night of the food festival we heard it was difficult to get tokens and even more challenging to get to the head of the long food lines.
The traffic was overwhelming and one off my girlfriends received a fine for parking her car nonchalantly next to Plaza Padu. She took time to congratulate the officer and thank him, seriously, she did, for his diligence. Finally, some enforcement, she said.
After hearing her parking story, we decided to take a taxi into town. It's cheaper than a ticket. Wow, brilliant idea. The same driver with what looked like an armored personnel carrier picked us up two hours later and brought us back to our cars, in the Palm Beach area.
That was smooth.
On the second night of the Food Truck Festival, with all glitches fixed, it was easy-breezy: Tokens, food lines, nicely accessible bars.
First stop Hollywood Smokehouse. How we missed their food, the Pulled Pork and the low & slow Beef Brisket, neatly stuffed into soft taco shells. It was delicious when paired with a Blackberry Bourbon Lemonade, their signature cocktail. When we went back for seconds, Maarten, the Little One, told us it was sold out. I should have expected it.
Sergio Silva entertained with Bamboo, or under another name, the Shortcuts?! Never mind, always excellent and no one sings Rock n' Roll better than Mirugia de Cuba.
The fritjes of chef Bas at the Pofferdorie were fat and crispy, with a sweet sate sauce, but after that colossal calorific intake all we could do was sigh with regret. We ate too early too fast and couldn't have anything else.
So, what were the choices? Nos Local Truck featured Funchi Hasa cu Keeshi, Soppi Oester, Pan Cu Sate, Pan Cu Carni Stoba, Sate Platter and Grilled Ribs. They were busy.
The daring and out-there Taki offered Kalamara, a white rum and hibiscus infusion and something he called the Yerba Stinki Collection, infused with rum. The list of ingredients included Kwek, 2 x 4 and Un Wowo So. I did not get it, but I am sure it was divine. Also receiving compliments, the Crioyo Manouverz with fried okra, pumpkin and black-eyed pea pate. This guy is creative.
Burger Joint & Candela enjoyed a nice mix of clients. Candela's made to order cheese steak with pickled onions had many fans, the burgers from the Burger Joint especially their Crioyo version with a fish cake on Pan Bati looked promising. Compliments on the addition of a VEGAN burger, a black bean patty with avocado or mushroom sauce.  
We sauntered by El Mexicano and Eataly who seemed to do great business.  
We had no room for the Sushi Shap ☹ Gelatissimo ☹ or D'Abaru.
But we promise to pace ourselves better next year!! Pa Bien Aruba Tourism Authority for a great annual event, in an appealing format, in a great location. Now, we only need to figure out how to include more tourists. I did see a handful having a good time with the band on the plaza.
 Santa Rosa at the conclusion of Earth Month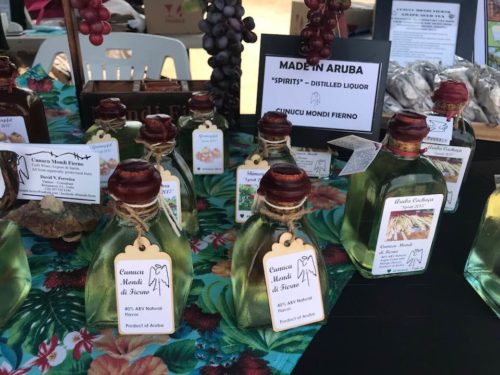 That place hangs on by a thread. Our 'agricultural station' does its best to support farmers and fishermen and those raising any kind of livestock.
It is a mission impossible on a desert island with no water, no soil, minimal financial support but Santa Rosa in hanging in, and hanging on. It is amazingly popular with the locals especially on market days in March, May, June, July, September, November and December. With two big ones in April at the conclusion of Earth Month and in October.
"We encourage entrepreneurship," says Nathalie Maduro at the helm of the complex and according to me she is very successful at that, judging from the number of artisan products sold on Market Day.
BUT… she is not a miracle worker, she needs some government help because farming requires water.
This is what we think needs to happen: All dams and waterholes need to be cleaned up and protected so that the water in those reservoirs is safe for farming, and free of debris, junk and construction leftovers.
All the OVERFLOW & RUNOFF from BUBALI PLAS, now flowing into the ocean and contamination our beaches, must be trapped, further purified and sold to farmers as irrigable water, at a favorable rate.
Tens of thousands of liters of grey water now run off the Bubali Plas into the ocean, contributing to the muck-yuck silty bottoms.
TRAP THAT AND USE IT FOR AGRICULTURE. We could have some more farm-to-table produce if we had water!
Bottom line: The Minister of Transportation, Telecommunication and Primary Sector needs to do a little more than just wear the Santa Rosa tee-shirt, for this place to thrive.
Some of the SANTA ROSA offerings:
Miracle Cold & Flu: Made with Agave, Ginger, Turmeric, Cayenne Pepper and Apple Cider, this is reportedly an atomic weapon medication by Jady-Ann Maduro, https://www.facebook.com/jadyann.kelly
Cunucu Mondi Fierno: A whole line of wines, liquors and spirits, all grapes & fruit organically grown here, nicely packaged, available in modest stands at the Donkey Sanctuary and the Ostrich Farm, by David V. Ferreira, and his diligent family. They also package grape seed tea, tasty and rich in antioxidants. https://www.facebook.com/Mondi.Fierno/
Remedi Tera: Lucio Croes offers old fashioned concoctions, his late mother's recipes.  Tel.: #562 4840
CC Bath & Body: A line of soaps and body oils by Jacky Geerman. Our "Headache, Breath & Sleep," inhaler is a must have, next to your bed at night. Go ahead use it, she says, it is made of high grade essential oils! https://www.facebook.com/ccbathbody/
Taste A: Two bright personalities Shirley & Selinna make homemade Mauby, Sea Moss and other grandmother remedies, plus wine, including Mango and Cashew, syrups and what looks like yummy spicy jams. https://www.facebook.com/delimy.spiceherbs
Tesslah Natural Products: Include Aloe Syrup, Aloe Capsules, Calabash Syrup and Ginger Pineapple. The Calabash, an ornamental tree that produces large, hard, green skinned fruit, that take a long time to ripen are believed to have great curative benefits. https://www.facebook.com/TESSLAH-NATURAL-PRODUCTS-173178736594215/
SAM: An enterprising resident of Macuarima, Santa Cruz, bottles Sorsaca wine, a fruit known as soursop or Annona. He distills, and ferments, or maybe I got it backwards, ferments and distills a line of liqueurs which he is proud of and also hosts a weekend BBQ cook out, open to the public, which attracts a steady following:  https://www.facebook.com/truckdipapisam/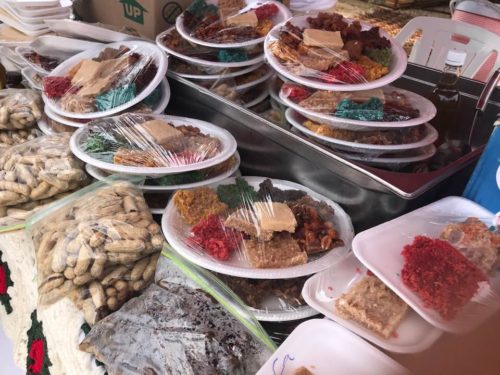 Nice addition to the neighborhood!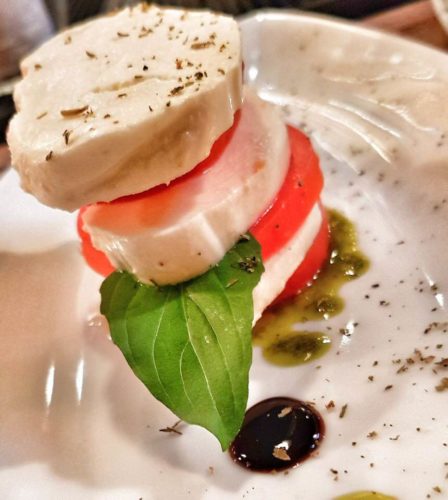 We were on our way to Palm Beach, in the evening hours Sunday night when the car suddenly swerved on its own over the curb into a parking lot of the new Oak Restaurant & Bar at Waykiri Residence in Rooi Santo, Noord.
The surprise location, the oversize OAK sign, the glowing store front. We had to stop and check it out.
The new eatery is very attractive, it looks like a classy wine room and the prominent bar features lots of aged, expensive, single malt whiskey bottles, finicky vodkas, including FAIR. made of Quinoa, and really impressive top to bottom gleaming labels, towering over a professional espresso machine with Illy coffee.
The menu is eclectic — something for everyone, we went light and ordered four appetizers, Calamari Rings with a fresh marinara, Caprese Salad with beefcake tomato, Shrimp and Fish Ceviche with funchi sticks and deep-fried Goat Cheese balls, all very good. We liked the selection of wine by the glass and the homemade Orangecello, for dessert.
The restaurant/bar experience is overall very civilized, the music jazzy, the Barista/Bartender adorable and eager to please, and the staff, neatly uniformed in long bistro aprons and newsboy caps.
What a nice addition to the neighborhood!
Congratulation Ricardo Chirino and family members.
Ricardo already operates an oceanfront restaurant by his name at the Aruba Beach Club. His career was launched if I recall at Matthew's Beachside Restaurant at Casa Del Mar, then he spread his wings and went next door to take over the neighboring eatery. Ricardo also ran Sweet Peppers at Caribbean Palm Village, for a while, with his sister Anky Chirino, but she moved it to Paseo Herencia recently, and he traveled to Noord.
I always wanted a cozy bar/restaurant with a more classic appeal, he says.
You got it, baby.
Opens at 5pm every day, with featured specials by a Spanish-trained chef, good with paellas, says Ricardo.   
Open House at Marinierskazerne Savaneta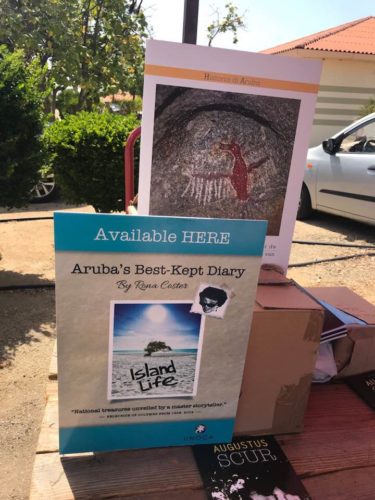 The Marines' Open House last Tuesday, Labor Day, exceeded all fund-raising expectations, says project officer Gijs Schoe. It's his second year at the helm of the event, and with combined efforts of 170 staffers, Marines, Military Police, Coast Guard, Firefighters from the local Fire Department, four-legged K9 officers and their handlers, cadets from the Police School, the Justice Department, and 16 volunteers of the Red Cross, the day unfolded smoothly with 13.500 island residents in attendance.
I think it is really impressive. On a hot day last Tuesday, 13.500 island residents made their way to Savaneta. Braved the traffic. Parked. Got out of their cars with their kids in tow, and entered the base, ready to be entertained.
They also ate and drank and shopped the Fancy Fair, the local flea market with endless booths including the Skina Di Cultura, Cultural Corner, where I joined historian Evert Bongers in the promotion and the sale of our books. He lasted longer than I did and sold more. I was a bit overwhelmed by the heat!
The Marines rolled out the red carpet and showed off all their tricks, with live fire shooting, land and water demonstrations, in and out of the ocean in full combat gear, the kids were thrilled and totally entertained by this new kind of live video game, unfolding before their very eyes. Before the after the demos they went zip lining, ran the obstacle course, crawled in and out of the military vehicles, and took short cruises on board specialized military crafts.
Tragically, mid fun, the Coast Guard was called to rescue a small skiff in trouble in the Barcadera Bay. That assignment ended with a saved baby and one adult casualty, when a boat with more than a dozen people overturned on the way to family picnic.
We are on duty 24/7, says Schoe.   
The event raised more than Awg 20.000 for two local foundation Sgt. Pepper & Friends, a dog and cat rescue organization and HOPE an elderly care facility.
This year the Marines clumped all of their demonstrations into one block of excitement, which worked very well says Schoe, whose job description according to LinkedIn is: Stafmedewerker Marinehoofdkwartier bij Ministerie van Defensie.
It is good to know that Marinierskazerne Savaneta, which is the Marine Corps base in Savaneta, fullfils the role of our Defense Ministry. The base is the island's maritime security partner, here to protect and secure infrastructure such as the airport, the water & electricity plant and the defunct refinery.
The marine corps base collaborates greatly with the Aruba Police Department, the Aruba Coast Guard, the K-9 unit, as well as the local Aruban Militia members who work on the base. In the past they also enjoyed the Social Formation program designed to rehabilitate problem youth, by introducing them to an army lifestyle, at the base.
The base is a self-contained world with offices, training facilities, armory, an arsenal, dorms, speed boats and other military water craft, a church, a hospital, a garage, troupe carriers, an ambulance, a lounge and mess hall, a social hall, a gym. 
The base in Savaneta is here since 1938. Built for the protection of the allied forces refinery, important to the war effort. The Dutch kingdom owns the base and takes care of it as far as upkeep and improvements, it always looks spic and span.
Most Marines volunteer to come here after undergoing basic Marine training, and even experiencing action in Africa, or the Middle East, or other far corners of the world. When here, most of them live off base, rent houses, send their kids to school and live the island-life, playing beach tennis, diving, while working on the base, weekdays from 6:30am to 3pm.
Their economic contributions to the island are substantial, as they live and work here, and are part of the fabric of the society. They reinforce stability in the region, as they serve the former Dutch colonies of Aruba, Curacao and St Martin.
They are trained and prepared, with emphasis on physical training, the handling of weapons correctly, they go on amphibian exercises, they enjoy serious practice partners among the American Marine Corp, and the French Caribbean forces. They keep up their skills. They are a quick reaction force. Humanitarian missions in the wake of natural disaster? They are the first to head to the airport.
It is interesting to acknowledge their core values:  Unity, Might & Dedication. 
The Marine Corps is 353 years old, and the entrance of the Savaneta base is one of the iconic images of Aruba
When the Dutch royals visit the island they always pay a visit to the Marines.
Aruba is fond of the Marines and has been flocking to the base for the annual Open House, for 30 years. The Marines take part in sport competitions and special events, even Carnival, and are a welcome sight on the island.
Machete Rocks at Ateliers '89 Academia Di Bellas Artes Aruba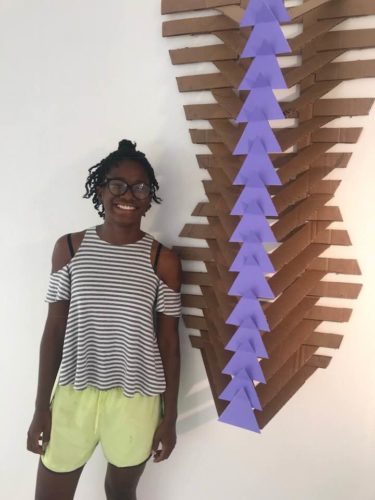 I visited the expo pre-opening and it is worth seeing.
About ten local aspiring artists have been working under the guidance of Israeli born Yuval Rimon on giant animals made of recycled materials.
The goal was to present a work of art, Gigantic Animals, with rudimentary materials and rudimentary tools, hence the machete, nothing but the basics.
What I saw was totally interesting and creative, I was lucky to talk with some of the artists prior to the festive opening, on Thursday, with entertainment by Judith Werleman, and Master DJ Adriano Nanof live-mixing.
The academy's student body is eclectic, teens and adults, novices and veterans, what they all have in common is passion for art and the commitment to show up for the courses given in cycles, a few times a week, for a great number of hours.
According to director Elvis Lopez the academy offers a versatile menu of course, including animation, sculpture, photography, so that students become multi-faceted and explore plastic arts in their totality.
For the current expo Jamila Phillip, Samuel Eman, Suzanne van Spall. Rodrigo Peraza, Judith Werleman, Clarck de Lange, Daniela Sanchez, Adolfo Rekkers, Lupitra Bernabela, and Romelinda Malmonado contributed their talent, all notables.
Jamila presented a recycle cardboard butterfly, made of multiple cut-out bands that function as a spine-like construction.
Samuel Eman assembled an altar, a platform, upon which he was to preside, in white, I did not see it but it sounded impactful.
 Lupita Bernabella whose work is on the invitation, has been a student of Atelier for a while. She worked hard on the spontaneous yet calculated piece she presented, made of discarded strips of reed.
Rodrigo Peraza in his early teens created a fire spitting yellow dragon from paper and glue, the kid is a consummate artist and a very accomplished one.
Judith Werleman assembled a barrier, made of discarded cosmetic counter artifacts along the wall, a statement about how we use make up to hide behind.
Clark de Lange created a kneeling human figure, regal, wings out-stretched.
I was told the teacher insisted on proportions and measuring the human figure to crack the code of eye-pleasing proportions. Clark's piece from discarded wood is impressive.
Daniela Sanchez made a lion from colored, rolled newspaper tubes, she is a multi-faceted young artist and Elvis is proud of her accomplishments.
Suzanne van Spall's horse is a masterpiece, full of movement, defiance and emotion.
Adolfo Rekkers is an amazing artist, his snake, and his man-on-the-wall are museum pieces, so detailed and interesting to look at.
Another one of the artists reflected in papier-mâché on an illness she was diagnosed with, an impressive piece with an amputated black hand and empty breasts.
The work of teacher Yuval Rimon stands out, I regret I couldn't talk to him about his art, as he is gifted and according to his students helped further develop their skills considerably.
Elvis does it all on a shoestring budget, and he is proud to say that two of his students got accepted to excellent schools in the Netherlands just recently and will go on to develop their inner artists to the fullest, which keeps him going.