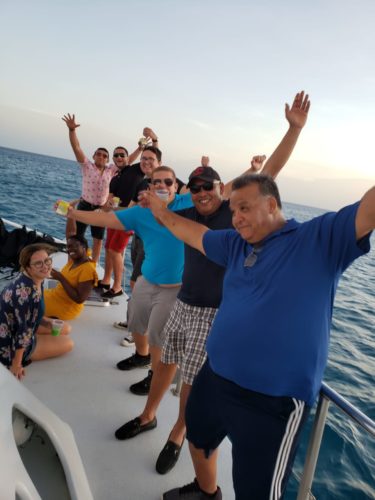 Managers, the department of Human Resources and the Accounting department of La Cabana Beach Resort & Casino congregated for a relaxing activity on a sailing Catamaran, leaving the Hyatt Regency pier just before sunset.
As the Catamaran sailed past the high-rise hotels and Malmok Beach snacks and refreshments were served.
General Manager Joe Najjar greeted his team warmly, on that well-deserved managers' outing, and reiterated the team's two-fold communal goal, of pursuing personal aspirations and achieving dreams in life, by working hard at the resort, fulfilling guests' expectations and seizing opportunities which go beyond the individual comfort zone.
Special praise and words of extreme gratitude were bestowed on Frida Geerman who was honored with the title of Manager of the 3rd quarter, 2019. Frida thanked each and every one for being present to share her achievement celebration. The night ended with fun, laughter and spectacular photos.