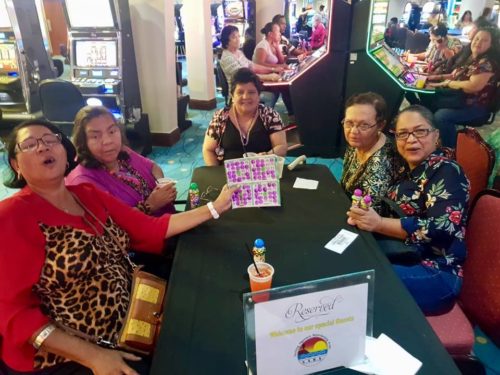 Introducing End of the Month Bingo: Gala Editon
Weekends are dedicated to Bingo at the Casino at the Hilton Aruba Caribbean Resort, and among spectacular upcoming bingo events, one stands out, on Sunday, July 28th, when Bingo goes Gala, at 4pm.
The special gala occasion calls for a unique dress code, formal.  Players are invited to shine, dress to impress, and be ready to have a great time. But remember to buy your tickets on presale, before they run out, just $20 per bingo package, including $5 free play for members.
With the event just days away, players are asked not to delay because presale ends July 27th, 8pm, and tickets at the door are $25, and only a limited quantity is available.
With a $5,000 prize for game 9, and a chance to win the progressive on game 8 — $52,000.- or Awg 93,600.-, or part of the jackpot up to $1,000, players will also be treated to triple the starball and live entertainment with Tsunami, until 8pm. Yes, one of the most popular bands on the island will play its unique blend of Latin, Caribbean and local hits, with the focus on live instruments and live singing, expect to be entertained greatly.
The Casino at the Hilton Aruba Caribbean Resort, is proud of an extensive promotional program for its members with Super Bingo every day at 4pm, fun Pick-A-Card, Spin the Wheel or Roll the Dice games, in the evening hours. Expect Triple Points on Wednesday, followed by Wednesday for Lovers and a fantastic Happy Hour on Friday, Back to Back Bingo on Saturday and a chance to win extra points Just for You, on Sunday.
While management reserves all rights, the casino is open and welcomes its guests, locals and tourists from 12 noon to 3am. Tel.: +297 526 6905