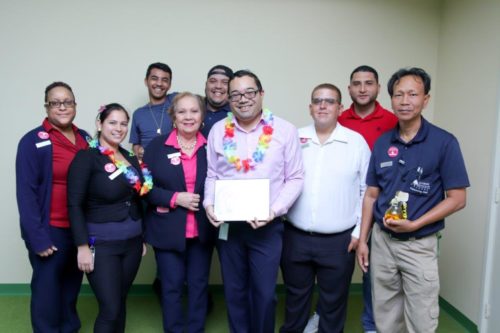 A special afternoon dedicated to the theme of appreciation, put the resort's stars in the spotlight
The Associate, Supervisor, Manager, and Team of the Year were acknowledged for their many contribution and awarded with certificates of recognition.
They were Kevin Kock, Associate of the Year with Runner Up Yolanda Boekhoudt, Manager of the Year Yseline Lynch and Supervisor of the Year Diego van Kempen.
Sustainability Champion of 2019, Frank Sabajo, received a certificate of excellence as well as RELP graduates Diego van Kempen, Dave van der Veen, Amaris Werleman lauded for their environmental leadership.
The afternoon organized by the Social and Safety committees, in collaborations with the Eagle Team, also included MEDALLIA awards in various categories.
Those resort associates most favorably mentioned, per department, were presented with a token of appreciation. They were, from the Front Desk/PBX/BELL: Geegee Jaranilla; Housekeeping: Yolanda Boekhoudt; Engineering: Miguel Martinez; Loss Prevention: Jonnie Orie; P&B: Gareth Rosa; F&B: Roshaline Cores; Owners Services: Desiree Henriquez; Accounting: Robert Maduro; Activities: Nixon Castillo; Executive Offices: Joe Najjar; Bluegreen: Nerissa Arends and MEDALLIA's most favorably mentioned associate resort-wide, Angel Santos.        
The resort's Medallia winners also included members of the Activities Team, they scored the highest as a team, improved the most, and were rewarded for their diligence and the above and beyond performance.
Other Medallia winners included at the Front Desk, Larissa Solognier, at Owners' Services Nathalie Wouters and Desiree Henriquez, also Nicolasa Ventura, at housekeeping, Miguel Martinez at Engineering and Manager on Duty, Micherlande Prophete. Three fast-acting associates Adelmo Santiago, Lindoro Vera, and Andre Geerman were praised for prompt response, measure in a few minutes.
Congratulations to all winners who help make vacations spent at La Cabana Beach Resort & Casino into most memorable ones.